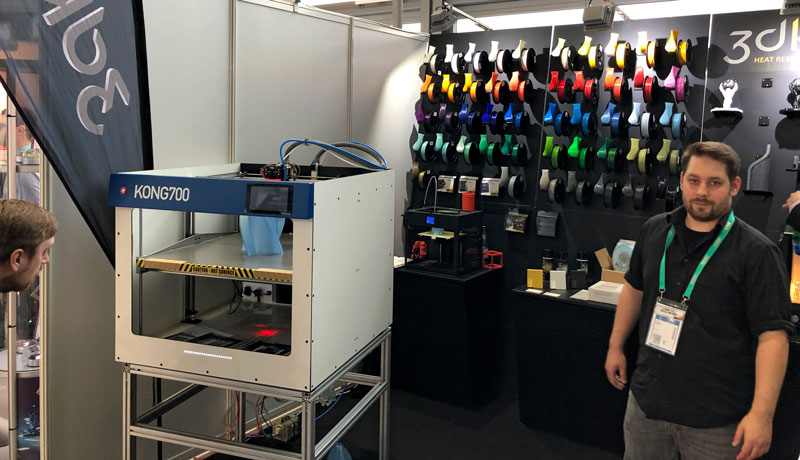 The formnext show 2018 in Frankfurt/M was a great success for our new 3D printer KONG700. The printer was on display at the booth of our partner 3dk who is also manufacturer of the 3dk line of standard and specialty filaments.
KONG700 shares many components with its bigger brother KONG1000 but was specifically designed to meet the size requirements of certain vertical markets, like molding and packaging industries.
Fitting through a standard office door (82cm) is also an important issue for many userers in d=the design industry as well as the engineering departments of industrial customers.
KONG700 offers a servo driven X + Y axis, a heated bed with atomated bed levelling and support temperatures up to 260C at the Nozzle and 100C at the heatbed - sufficient heat for many new specialty materials like K-TOP.
3dk.berlin has developed K-TOP for industrial customers and tested it in a successful pilot phase at a major automotive supplier. After printing the parts get tempered at 110°C inside a convection-oven and cooled down slowly. The proper tempering time depends strongly on the volume of the built object - it has to be heated thoroughly.
The 4th dimension shows itself while crystallizing the material, which triggers the structural change of the material. Thus a thermal resistance of 200 °C (constant load) or 230 °C (peak) is reached.
If crystallization is spared, the print result is extremely impact resistant and can take huge mechanical loads. Temperature resistance is around 80°C. Among others, K-TOP enables totally new applications for the vacuum forming industry.
Stay tuned!